Saturday, February 4, Westfall inducted four new members into the Athletic Hall of Fame. Prior to the varsity boys' basketball game against Wellston, Westfall High School honored Danny Roberts, Trent Williamson, Tom Walters, and Bruce List.
Danny Roberts, Class of 2000
Danny was a standout wrestler for the Mustangs. He was a two-time Sectional Champion, four-time District qualifier, and two-time State qualifier. In 2000, Danny finished as the State Runner-Up in the 152-pound weight class.
Danny was the 2000 Pharr Award Winner (Pickaway County Wrestler of the Year), the Medina Invitational Finalist, and a three-time McDonald's Miami Trace Invitational Champion. During his time at Westfall, Danny accumulated over 140 wins. Danny was also a member of the football team. Danny is currently an iron worker for Local 172 in Columbus. Accepting the award on behalf of Danny Roberts is Jerry Post.
Trent Williamson, Class of 2013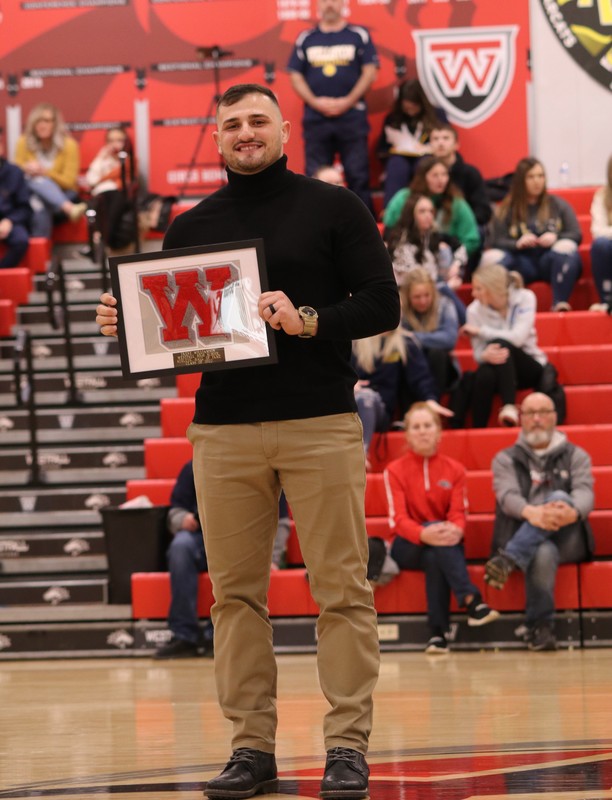 While in school, Trent participated in football and baseball. He was a four-year letter winner in football, where his accolades included first-team All-State QB in 2011 and 2012; Scioto Valley Conference Back of the Year 2010, 2011, and 2012; McGaffney Award (Pickaway County Player of the Year) 2012. Trent was also a member of the baseball team at Westfall from 2009-2011. Trent went on to play football at West Virginia State University, where he was named captain in 2017.
Trent is currently employed as a teacher at Washington Court House Middle School and was just named Head Coach at Westland High School in Galloway, Ohio. Trent and his wife Kara have one child, Madyn. They currently live in Grove City.
Tom Walters, Class of 1984
While in school, Tom was a member of the football, baseball, and basketball teams. Tom was a four-year letterman in football, where he earned Defensive Back of the Year; All-SVC and All Pickaway County honors, Honorable Mention All-Central District as a senior; and was on the first Westfall team in history to win the SVC Golden Football as an undefeated team in 1983.
Tom earned three varsity letters in baseball, earning All-SVC and Honorable Mention All-Central District his senior year. Tom was also a letter-winner in basketball. He was also President of the Varsity W club his senior year.
Tom has a daughter Chelsea Beathard, and two grandsons, Chase and Kason. He is currently employed as a Production Supervisor at Capital Resin Corporation in Columbus. Tom currently resides in Orient. He loves spending time with his grandsons and is an avid Buckeye fan.
Bruce List, Class of 1965
Bruce was a member of the first graduating class here at Westfall, where he was a member of the varsity football, basketball, and track teams.
Bruce was an active supporter and sponsor of Westfall athletics during the early 80s and 90s. Bruce served a significant term as the Athletic Booster President and had the honor and pleasure of acting as the school's athletic photographer for over ten years. Bruce was well-known for his service to the district through photography and could always be found, camera in hand, at almost any special event or school function. He photographed numerous sporting events and provided team yearbook and individual photographs for students and families. Yet throughout Bruce's career and time spent serving Westfall High School, it was evident that his passion for the district ran deeper than just taking pictures.
Even more important to him was the opportunity to develop lasting relationships with the Westfall families that he came to know over the years. In his role as a photographer, he had the delight of following each of them on their own unique journeys and capturing lifelong memories along the way. These memories still resonate not only with the children of these students and families but also with the entire district, as they are a part of the history of Westfall itself. One could say that Bruce was not simply a photographer, but rather a historian, who actively worked to record the many accomplishments and important moments of the Westfall school district until he finally retired.
Looking back on his work, it is clear that Bruce dedicated his career to telling the story of Westfall and preserving it for generations to come. That dedication to Westfall remained strong to the end of his days; as in life, he proudly displayed his Westfall spirit; he was laid to rest in apparel representing his alma mater, given to him by his dear friends and classmates who he remained in touch with over the years.
Bruce has three children; Lori List-Dye, Hallie List-Fargnolli, and Andy List (all Westfall alumni). In addition, he has five devoted and loving grandchildren; Caleb Ellis Montgomery, Dr. Bailey Katherine Dye, Staff Sgt. Drew List, Luke List, and Taylor James-Elward (the former 3 being Westfall alumni).
This organization and its people meant so much to Bruce. He would have been deeply moved and honored to receive this award. Accepting the award on behalf of Bruce List is his family.